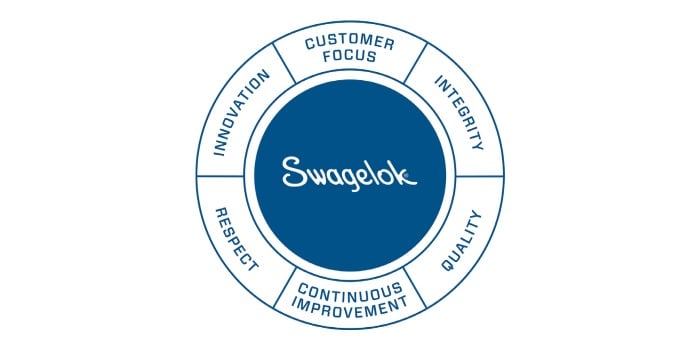 Driven by our Values
Swagelok is a values first company committed to customer focus, integrity, quality, respect, continuous improvement, and innovation
We have proudly helped serve local communities for more than 50 years. Swagelok Northwest (US) is one of 225 independently owned sales and service centers for Swagelok that provide high-quality fluid system components, assemblies, and related services.

Whether you are buying a single part or need help choosing the most cost-effective fluid handling products for complex systems, we focus on your needs, each and every time. We are committed to upholding our six core values, but more importantly, we're committed to you.
A Vision for the Long Term
Since 1947, Swagelok has been a values-based company committed to doing the right thing in all cases. Swagelok's values orientation plays out in everything from supply chain management to engineering, manufacturing, fulfillment, and sales and service. As a privately held company, Swagelok is not under pressure for short-term financial results. In all areas of our business, we attempt to make decisions that are in the best long-term interests of our company, associates, sales and service centers, and our customers.
Reducing Energy Use and Waste
Although Swagelok's manufacturing output has increased significantly since 2010, our level of energy use has remained virtually the same. Recent investments in our facilities have included new LED lighting, air compressors, boilers, chillers, and other more energy-efficient equipment.

We minimize our use of hazardous chemicals by seeking safer chemicals and other materials for our manufacturing processes and products. Each year at our facilities, we recycle more than 15-million lbs. of alloys, and we divert more than 50% of general waste from landfills. Outside our facilities, we have planted gardens of wildflowers and native prairie grass to reduce fertilizer use and emissions from mowers.