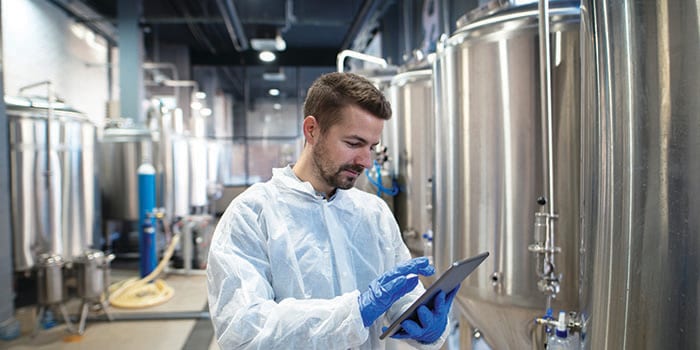 Food, Beverage, and Dairy
When you need purity, choose Swagelok.
Swagelok Northwest (US) supports the rigorous needs of food, beverage, and dairy fluid systems.
Whether your industry pasteurizes, sterilizes, bottles, packs, steams, or cleans, we have the products that meet the toughest sanitation requirements. Swagelok offers an exceptional range of 3A-compliant and ISO 2852-compatible products engineered to meet the needs of food, beverage, and dairy applications. Jensen™ series and other Swagelok® sanitary products are available, including Kwik Clamp fittings, ACME thread fittings, butterfly valves, and pumps.
We offer prompt quotes and on-time delivery for special product fabrications, components, or skidded assemblies. See below for a few of our most used products and services for the food, beverage, and dairy industry.
Energy Management Services
It takes special expertise to keep a steam system safe and reliable. Expertise that gets harder to find with each passing year as more people retire. Fortunately, you can still find it at Swagelok Northwest (US).
An easy way to explore our energy management services is with a free phone consultation. We can tell you about our steam evaluations, how to calculate the true cost of steam, and help identify which areas of your steam system need some help. Then you may want an on-site visit from a Swagelok engineer. He can look at a specific problem, such as a valve that keeps failing for unknown reasons. Or it might involve steam traps, leak detection, or an evaluation of your condensate system. You'll get a report on how to fix the specific problem, plus suggestions about what else to look for in your system and a roadmap for how to implement the recommendations. It is a chance to open a window into your steam system and uncover cost savings, explore opportunities for improvement and gain from the experience and capabilities that our engineers bring to the table.
Steam System Optimization Training
We're also glad to pass some of our expertise on to you. Our training in Food & Beverage Steam System Reliability, Safety, and Optimization reviews all aspects of a food/beverage steam system. You'll get a solid understanding of steam system management, including topics such as process hot water systems, CIP systems, steam quality, flash steam recovery, steam and condensate piping, heat transfer, safety, and steam system mass balancing. Attendees work in groups to accomplish different tasks relating to a steam system.
When your processes involve any kind of food, there's no room for compromise. Swagelok Northwest (US) will help you keep your systems at peak performance.