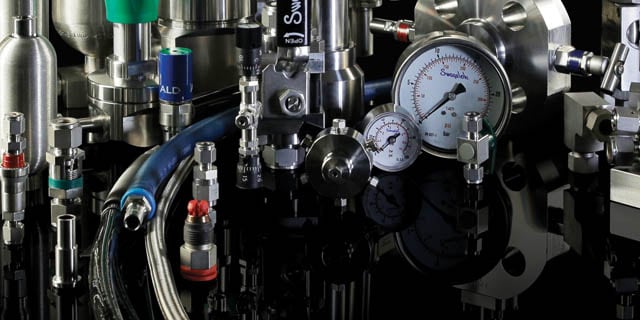 Swagelok is a premium manufacturer of components around the globe. Our best-known product is the Swagelok tube fitting, so we'd like to give you a closer look at the making of this component.
Like any other great invention, this component started with a great idea. Swagelok engineers come from the U.S. Military and respected international universities. They hail from top partners in industry and manufacturers around the world. They bring their knowledge and experience to the resources Swagelok has developed for constant innovation.
Swagelok introduced the original flareless, mechanical grip-type, two-ferrule tube fitting in 1947. We have continued to improve our proprietary design ever since. Swagelok tube fittings have a grip-type design that uses a unique "hinging and colleting" action to achieve prime performance in three key areas: tube grip, gas seal, and vibration resistance. The unique leak-tight design of this component reflects the importance of innovation, integrity, and quality that define Swagelok.
Swagelok tube fittings extreme testing
Over time, Swagelok has added a wide range of other components, each made with care and attention to detail. Gathering regular feedback from our customers, Swagelok has expanded our innovation, technology, and field engineering teams, invested in an in-house makerspace for peer collaboration, and developed an online crowdsourcing tool to boost the ability to collaborate and to speed the identification of viable solutions to industry challenges.
You've just read about big idea and the research that made your Swagelok tube fitting. Learn more about the making of a Swagelok tube fitting in Part 2.