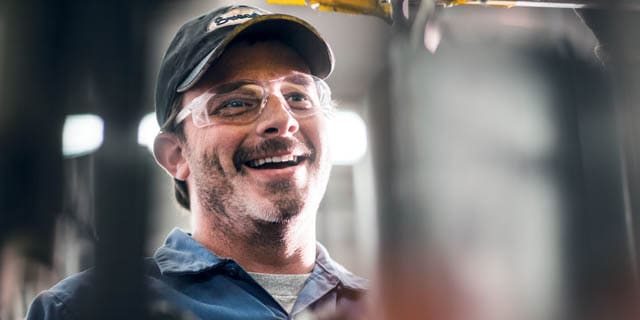 After Swagelok welds your component, assembly begins. Swagelok tube fittings are one of the products we call Assemble to Order (ATO) products. Swagelok also carries products designed especially for your unique needs – Make to Order (MTO) and Engineer to Order Products (ETOP). Trained associates assemble every Swagelok tube fitting.
Swagelok then performs continuous, rigorous quality testing on thousands of samples to make our reliable components. Swagelok also offers the most comprehensive book of tube fitting Product Test Reports (PTRs) in the industry for validation. For instance, one of Swagelok's tests is Chloride Stress Corrosion Cracking (CSCC) in 316 Stainless Steel. CSCC occurs where chloride concentrations and stress levels are present. Swagelok fittings have exceptional results in extensive CSCC testing. When experts tested Swagelok's Alloy 316 stainless steel nuts against eight other brands, none of the Swagelok nuts cracked or leaked.
The process of making a Swagelok tube fitting continues with our dedication to providing solutions to advance the safety and productivity of your business. Swagelok's promise of excellence isn't just our quality products, it's how you get them. Customer focus is one of Swagelok's central values. We test and reevaluate every process through the eyes of our customers. We strive to balance your needs and interests with every step.
You have a key account manager who spends hundreds of hours each year onsite. Our field engineers receive continuous training in sessions around the globe. These dedicated professionals are learning about new products, materials, and services that will mean cost savings and greater efficiency for your facility. Our KAMs and certified field engineers are there to help you assess every system, every leak, every component installation. We work closely with you to address your personal challenges and inefficiencies. Training is important to Swagelok. Every new hire at Swagelok Northwest (US) associate completes a 90-day training. This ensures that they have a strong understanding of the big picture as well as the small details.
You place your order with the conscientious customer service representatives on our team. They collaborate with our field engineers and key account managers to develop your quote and place your order. Our team is there to confirm that your facility is taking advantage of every possible solution, to ensure your strongest returns, and to keep your business ahead of your competitors as your industry changes. Swagelok is more than a store or a manufacturer, we offer expert solutions.
This may seem like the final step, but there's more. Read about the final steps of making a Swagelok tube fitting in Part 4.